I received a lovely new review of SECRETS, LIES & LULLABIES last week from our own Darling Debby.  (For the record, Debby was reviewing my Desires for CataRomance long before she ever dropped by The Dungeon, so trust me when I say I'm getting no special treatment.  I really am just this good. :elvis )
Here's what Debby had to say: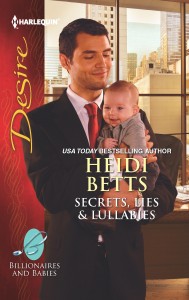 4.5 Stars – Sensuous
As the CEO of his family's business, Alexander Bajoran is used to handling everything thrown at him. However, the baby is his board room comes as a surprise. Especially the note attached to said baby announcing that he is the daddy. The mother has to be Jessica Taylor, a delicious one-night stand that Alexander never forgot. When Jessica returns, determined to make up for everything, Alexander knows he cannot let her walk away with his son. But she is the daughter of his rival and Alexander questions her motives.
There were so many little tangled webs of unknowns with Secrets, Lies and Lullabies. Alex and Jessica were caught up in some that were not even of their own making. Alex was seriously sexy and loveable. He had honor, talent and a determination to do what was right. Jessica was a bit of a free spirit. She wanted what was best for her son but could not really leave him.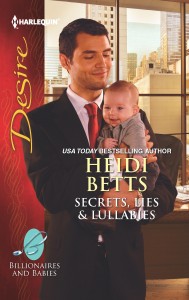 Heidi Betts pens such delicious characters and puts them in situations that make for a fascinating story. Secrets, Lies and Lullabies and its allure will stimulate your senses and engage your emotions. Another excellent story for us by Heidi Betts.  Pick up your own copy and explore the Secrets, Lies and Lullabies found within its pages.
Thank you so much, Debby!  I always love a positive review, but it's extra nice to know you got all the "little tangled webs" running through Alex & Jessica's story, & enjoyed reading about them as much as I enjoyed writing them. :yummy
You can read the full review at CataRomance.com.
And of course, if you haven't picked up your copy of SECRETS, LIES & LULLABIES yet, you can find it here:

Buy LULLABIES Now
Amazon :: Kindle ebook :: Barnes & Noble :: NOOK ebook
eHarlequin :: Books-a-Million :: Indiebound ::
The Book Depository (free international shipping)
!ndigo :: Amazon.ca

Comments
4 Comments • Comments Feed