Now that I've ordered my copy & am sure they won't run out of stock before mine is shipped :animenope , I'm very happy to share the news that Season 1 of The Walking Dead is currently on sale from Amazon.com for only $10.00.  (Unless they've changed it in the last few hours :angryhearts )

[NOTE:  I just checked, & the price has gone up to $15.00. But that's still a pretty good deal, if you're interested!]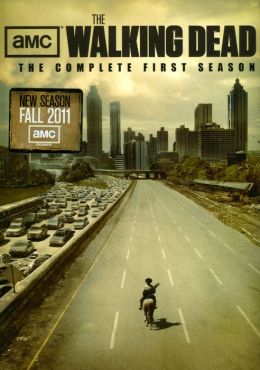 Whoo-hoo! :pinkdressdancingwoman
I have to be honest—I really didn't intend to buy The Walking Dead on DVD.  Yes, I love it, but it's one of those shows I figured I could be content watching in repeats whenever it happened to be on television.
But the more I watch it, the more I seem to like it, & discovering Season 1 for only $10 sort of pushed me over the edge into Must. Have. :seesawkiss
I'm just going to start with Season 1, though.  I will not run out & overpay for the rest of the seasons.  In fact, I'm now looking at completing my The Walking Dead collection as a bit of a challenge:  find ALL the seasons for $10.00 or less.  Hey, it worked with Supernatural—I've managed to find all of the seasons so far (except for the current Season 9) for only $10.00 each. :animsidetoside
So if you're loving The Walking Dead as much as I am & want a good deal on the Season 1 DVDs, grab it now!
Comments
6 Comments • Comments Feed