How would you like to play the part of my Not-So-Secret Shoppers & help me look for something I am searching for rather desperately?
All right, not desperately, but eagerly… :paranoid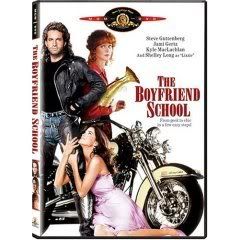 I am looking for brand new copies of
The Boyfriend School on DVD.
True, I have several already.  One copy in my personal collection & a couple extras that I like to use as giveaways & such.  Because this is only the best romantic comedy ever—for a romance writer like myself, anyway. :Pretty
But who knew that they'd end up going out-of-stock?  Or that copies would begin to sell on Amazon & such for nearly $50. :whhhat   So now I'm really sorry I didn't buy all the copies I could have when I first had the chance.
As I said, I've searched online, & they're quite pricey.  But what I'm asking you to do is keep an eye out when you're running around shopping at Wal-Mart & Target & such.
You know how they have those $5 DVD bins?  Uh-huh. :thumbsup   Keep an eye out for those & see if you spot any copies of The Boyfriend School lurking inside.
If you do find them—especially for the bargain price of $5—buy them all!  I will totally reimburse you for the DVDs, as well as postage to mail them to me.
I would even be willing to pay up to about $10 for new copies of the movie, but if they're going to be more expensive, then the quantity may need to be adjusted.  You know what I mean—if they're $5 each, I'll take 10 or even 15…if they're going to be $10 each, then I may only want to splurge for 5 or 6.
But if you see them, grab them, please!  Mistress Heidi & I would be ever so grateful if you did. :notworthy
Thank you!
Comments
11 Comments • Comments Feed