Pop Quiz:  How many of you have noticed some of the subtle changes taking place around here lately?  Updates to both The Dungeon & the main HeidiBetts.com pages.
What you may or may not have noticed from those updates is that I've got new artwork! Here is the gorgeous new cover of my October 2011 Kensington Brava title, MUST LOVE VAMPIRES: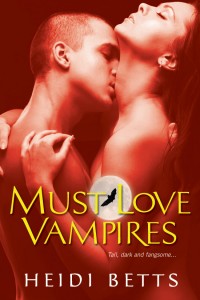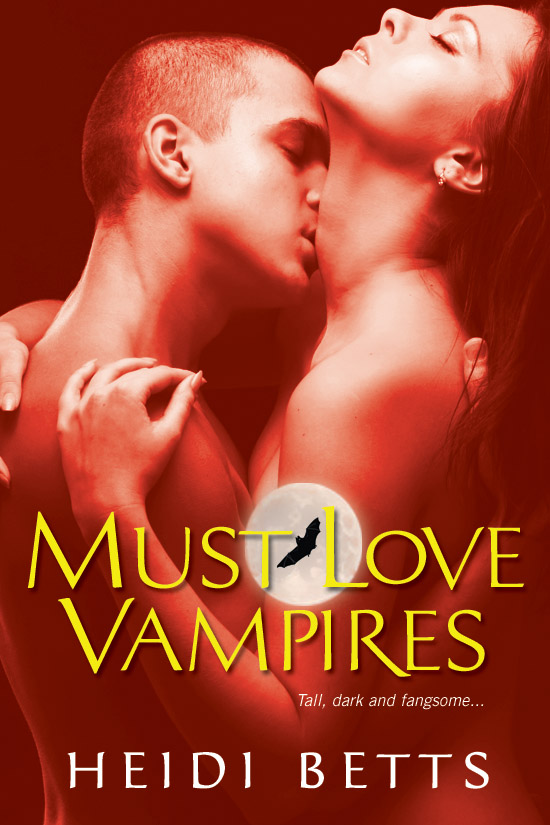 So what do you think?
I have to admit, I'm a little disappointed the guy doesn't look like he's biting the girl's neck more.  And my heroes (yes, this is a 2-in-1, so there are two :howyoudoin ) definitely do not have buzz cuts.  But those are small complaints compared to the utter hotness of the cover overall. :sexy
I've got back cover copy, too:
LOVE AT FIRST BITE
Nightclub dancer Chloe Lamoureaux just met the man of her dreams: Aidan Raines is charming, considerate, rich, and hot. Of course, he's a little mysterious about his age. And his favorite drink. And he's not much for sunlight. But he's asked her to marry him, and she's ready to do it. Sure, she has a few secrets too—but they'll have plenty of time to work things out while they're living happily ever after. Right?
Her identical twin sister, Chuck, isn't so sure. Maybe reporting for the local Bigfoot-sighting tabloid doesn't make her an expert, but to Chuck, Aidan and his brother Sebastian look like honest-to-Dracula vampires. Especially Sebastian: beguiling, seductive, and just a hint of dangerous. Maybe she wouldn't mind him taking a little taste. But with Chloe's life in the balance, she has to know—do they want hot love or hot blood? Or maybe…a little of both?
Can you say awe-some?  I'm starting to get really excited about this one!  Hope you are, too! :howyoudoin
And now that the cover has been revealed, it means MUST LOVE VAMPIRES is also available for pre-order!  So if you want your copy as soon as humanly—or inhumanly :eggcrack —possible, be sure to order today:
(The Book Depository offers free shipping worldwide, by the way.  :chick )
Soon, I should also have cover flats to share.  And bookmarks would not be out of the question, either, so stay tuned! :jump
P.S. I'm also doing the Big Reveal of my MUST LOVE VAMPIRES cover over at the Brava Authors blog today.  I hope you'll drop by to show your support—believe me, I need it LOL.  Just…pretend you're seeing the cover for the very first time, okay? he he  :bw
Comments
6 Comments • Comments Feed